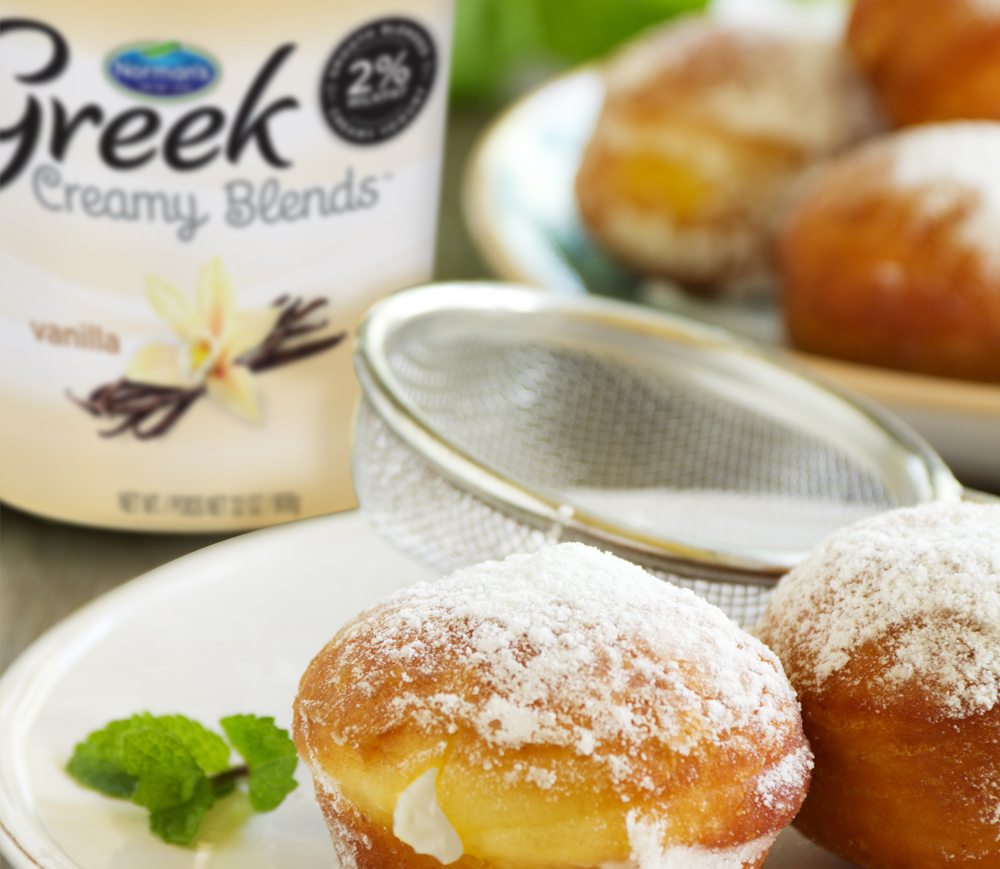 Vanilla Yogurt-Filled Doughnuts
Ingredients:
1 package of active dry yeast
3 ½ cups of all-purpose flour
7 tablespoons butter, at room temperature and cut into pieces
2/3 cup of milk
1/3 cup of sugar
3 eggs
1 teaspoon of salt
1 cup of confectionery sugar
Oil for frying
1 32-oz tub of Norman's Greek Creamy Blends Vanilla Yogurt
Method:
Combine yeast and milk together with an electric mixer (use a dough hook), stir to dissolve. Add in flour, sugar, salt, and eggs. Mix well. Once dough comes together, add butter piece by piece. Mix for 5 minutes until butter is combined and dough is soft, add flour as needed. Wrap dough in plastic wrap and refrigerate for 4 – 7 hours.
Remove dough from refrigerator and place on floured surface. Roll about ½ inch thick, using a round cookie cutter cut out 10 circles. Place on floured baking sheet, place in warm spot to rise for 2 – 3 hours until doubled in size.
Pour oil into saucepan until 2 ½ inches deep and heat over medium heat until hot. Throw in a pinch of flour, if sizzles the oil is ready. Carefully add doughnuts into the pan and fry, flipping once until golden brown – about 2 mins per side. Transfer doughnuts to the prepared tray using a slotted spoon
When doughnuts have cooled to room temperature, use a chopstick to poke a hole each side of the doughnuts. Fill a pastry bag with yogurt and insert the tip into the hole. Gently squeeze to fill.
Sprinkle doughnuts with confectionery sugar.
Comments
comments