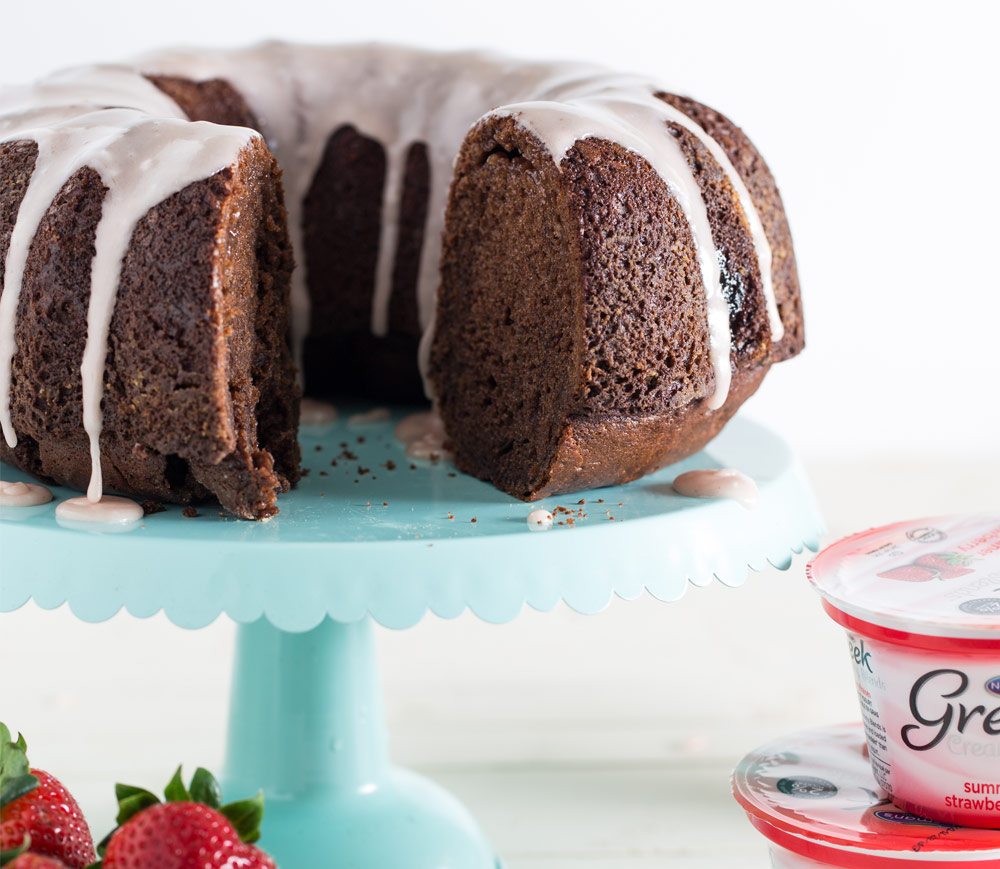 Strawberry and Chocolate Greek Yogurt Bundt Cake
Author: Miriam Pascal, OvertimeCook.com
Recipe type: Dessert
Serves: 1 bundt cake
Ingredients
½ cup oil
1 ½ cups sugar
5 eggs
1 teaspoon vanilla extract
1 teaspoon baking powder
1 teaspoon baking soda
½ teaspoon salt
2 containers (5.3 ounces) Norman's Greek Creamy Blends Summer Strawberry Yogurt
½ cup cocoa powder
2 cups flour
½ cup strawberry jam
Glaze:
1 cup powdered sugar
2 Tablespoons strawberry jam
2-3 Tablespoons warm water
Instructions
Preheat oven to 350. Grease and flour a standard bundt pan and set aside.
In the bowl of an electric mixer on medium speed, beat together oil, sugar and eggs until combined and creamy.
Add vanilla, baking powder, baking soda and salt. Beat until combined. Add yogurt and beat until creamy.
Turn mixer speed to low. Add cocoa powder and flour. Beat until just combined.
Pour half of the batter into prepared baking pan. Spread jam over the batter, then pour the remaining batter over it.
Bake for 45-50 minutes, until a knife inserted into the center comes out clean.
Prepare the glaze:
Add all ingredients to a small bowl. Whisk to combine. Drizzle over completely cooled cake.
Plan Ahead:
This cake freezes well in an airtight container or bag.
Note:
To make the jam easier to spread, run warm water over it for a few minutes before using.
Comments
comments