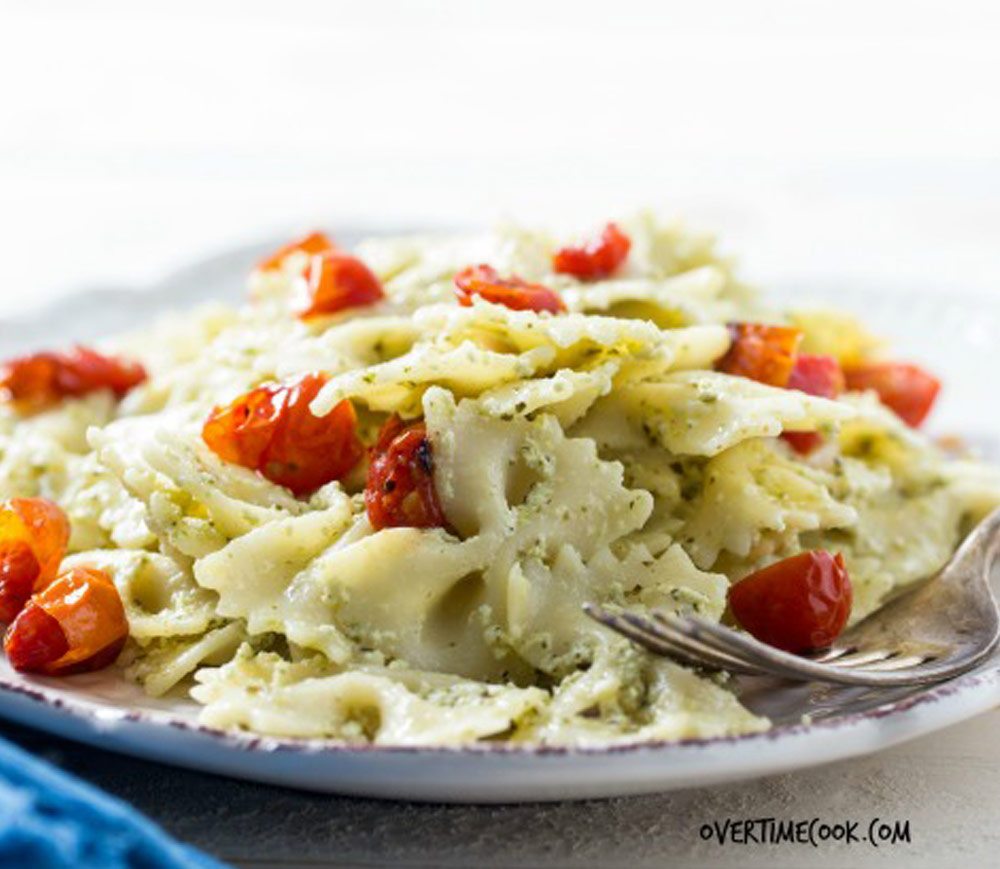 Pasta with Greek Yogurt Pesto Cream Sauce
Author: Miriam Pascal, OvertimeCook.com
Serves: 4-6 servings
Ingredients
Pesto
12 frozen basil cubes
2-3 frozen garlic cubes OR minced garlic cloves
1 teaspoon kosher salt
½ teaspoon black pepper
1 Tablespoon lemon juice
¼ cup olive oil
Roasted Cherry Tomatoes
1 pint cherry tomatoes
1 Tablespoon olive oil
salt and pepper to taste
Pesto Cream Sauce
1 stick butter
2 containers (6 ounces each) Norman's Plain Nonfat Greek Yogurt
pesto (recipe above)
2 Tablespoons parmesan cheese
¼ – ½ cup lowfat milk
1 pound pasta, cooked according to package directions
Instructions:
Pesto:
Combine all ingredients in a small bowl and stir to combine. Store in fridge for up to a few days, until ready to use.
Optional Roasted Cherry Tomatoes:
Preheat oven to 400. Line a baking sheet with parchment paper and set aside.
Halve the cherry tomatoes and place on baking tray. Drizzle olive oil, salt and black pepper over them and toss to coat.
Roast for 20-25 minutes, stirring halfway through, until the tomatoes get some color. Set aside.
Assemble the pasta:
Melt the butter in a large pot. Add greek yogurt and stir until smooth.
Add pesto and parmesan, stir to combine.
Add cooked pasta and stir until coated. Add ¼ cup milk and stir to mix it in. Add an additional ¼ cup milk, if needed, to make the pasta creamier.
If using, add cherry tomatoes just before serving.
Comments
comments