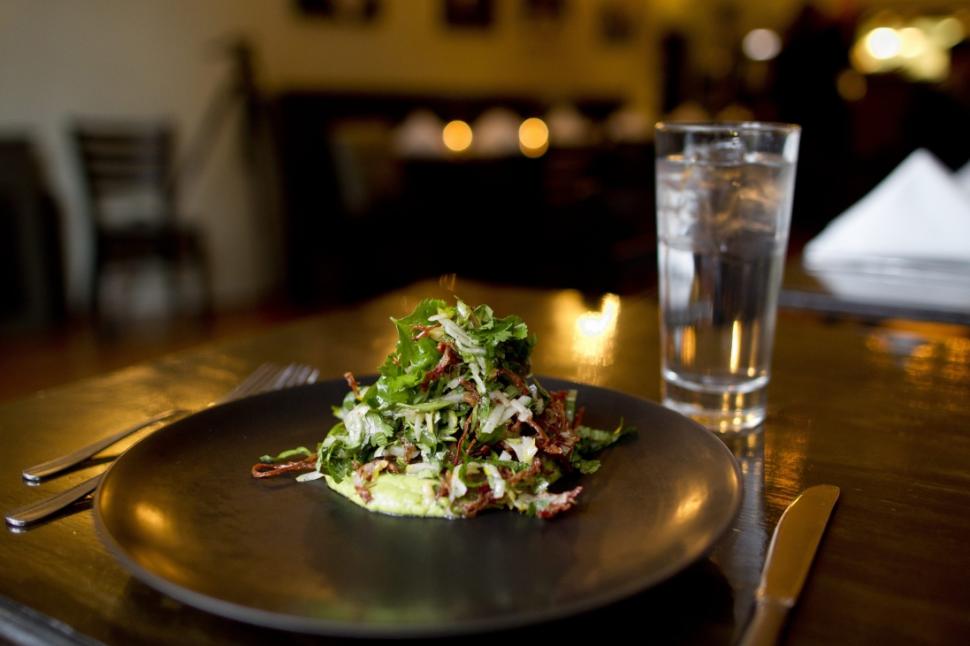 More and More Creative Chefs

More and more creative chefs and entrepreneurs are expanding the range and quality of kosher foods. Kielbasa. Bacon cheeseburgers. Texas BBQ. Oy, this is kosher? It is now.
As food-savvier consumers demand wider choices, kosher's getting a makeover. Leading the charge: Fearlessly creative chefs — some of whom aren't even Jewish — and pioneering purveyors stretching the boundaries of kosher tastes and textures.
Even venerable producers like Manischewitz are getting in on the act, with new twists on kosher stalwarts. Trendy red-velvet macaroons for Passover, anyone?
"Expectations for kosher have increased," says David Rossi, VP of marketing at the Manischewitz Company, which has been cranking out matzo and kosher staples for more than a century. "People want better flavors and quality."
Forty percent of kosher-food sales revolve around Passover (which begins at sundown on March 25), according to a press release from Kosherfest, the massive annual kosher food and beverage show.
And this ain't your bubby's gefilte fish. Among the I-can't-believe-they're-legal Passover products trotted out at Kosherfest in November: spicy chorizo, Cajun beef sausage, and beef kielbasa from Newark's Real Kosher; gourmet frozen soufflés in flavors like peanut butter and dulce de leche from Boston-based chef Yves Bainier; blueberry and apple cobblers from Brooklyn's Elegant Desserts by Metro; and gluten-free kosher sorbet and gelato from Florida-based Gelato Petrini, which snagged Kosherfest's Best in Show award.
Then there's Matzolah, a matzo-based granola made with maple syrup, raisins, and almonds, walnuts and pecans. "It took 40 years for the Israelites to reach the Promised Land, and nearly that long for kosher-for-Passover granola to reach your pantry," reads a tongue-in-cheek description. It even depicts Moses clutching an outsized Matzoloh tin.
Keeping current with kosher cravings can bring big business. Sales of kosher food have rocketed past the $13 billion mark annually, according to Lubicom, a Brooklyn marketing company. Lubicom estimates there are more than 12 million kosher consumers in the U.S. And a 2009 survey by research firm Mintel revealed that "Christians, Muslims, Jews and atheists alike are helping fuel the robust market for kosher foods," with consumers choosing kosher for "safety and quality."
It's one reason kosher's breaking boundaries, says Menachem Lubinsky, producer of Kosherfest and Lubicom's president. "Nothing surprises me anymore about this robust industry," he says. "At Kosherfest, we saw so many new thematic foods like Asian sauces, Mexican, and lots of Mediterranean. And I couldn't believe how Greek yogurt has taken off." Yogurt from Rutherford, N.J.-based Norman's earned Best New Dairy Product kudos at the expo.
Food that's not specifically for Passover — but kosher nonetheless — has become even more daring. Big Apple chefs are unleashing flavors and textures that would have seemed meshuggeneh as recently as the 1990s.
At Pardes, a Boerum Hill hot spot known for edgy cooking that's strictly kosher, chef Moshe Wendel touts "amazing dishes that seem too good to be kosher." His current favorite: a fried veal thread salad with pear, walnut, banana, avocado — and pulled veal braised in Innus & Gunn beer. "Definitely some flavor combinations you would never find in kosher!" he enthuses.
And while kosher bacon's the oldest trick in the book for crafty kosher cooks, Wendel pushes the envelope with a Brooklyn-farmhouse twist — lamb bacon with crispy shallots, a cornbread savarin, smoked egg yolk, arugula and pickled blueberries.
"The demand for thoughtful, seasonal, progressive food is very high right now in the kosher world, and the bar is constantly being raised," says Wendel, whose bio identifies him as a "baal teshuva" — a nonreligious Jew who embraces an Orthodox lifestyle.
Jews like Wendel are stoking the kosher revolution, claims Brett Delman, whose Brooklyn-based The Cheese Guy produces exquisite high-end kosher cheddars, bastardos and montaggios using vegetarian rennet. Converts to kosher have also been good for his business.
"The large numbers of Jews who did not grow up in traditional kosher homes, who have become observant and now keep kosher, are demanding higher-end cheeses," he claims. The Cheese Guy's sales have grown 20% annually over the last five years, Delman says.
Even the goyim are getting into the act. Chris Mitchell, chef at downtown hot spot JSoHo, says he had to attune to kosher palates when he transferred from Manhattan's buzzy Breslin, where he worked under star chef April Bloomfield. "I've never seen so many well-done steaks," he laughs.
But he's using his experience to nudge kosher diners in new directions. "I did a riff on sweetbreads, with Indian spices, curry, braised greens, pickled chilis and some crispy lamb lardons," Mitchell says. "I ran a bacon cheeseburger with lamb bacon, beef burger, faux cheese sauce. I replicated Tacos el Pastor using lamb belly. We're near Chinatown, so there's always Asian ingredients. And Mediterranean flavors like coriander and cumin come from working under April."
Next for Mitchell's kitchen: Maple bacon cupcakes with lamb bacon. "My message to kosher consumers is what every mother in the world says: just try it one time," he says.
Observant diners can handle the challenge, says Jesse Blonder, founder of Brooklyn's Center for Kosher Culinary Arts. "People who keep kosher are living contemporary, plugged-in lives," says Blonder, whose school is one of two kosher cooking academies in the world. "They're exposed to a wider variety of food. Kosher food's playing cultural catch-up."
And how. A Yonkers outfit called Hakadosh BBQ — "the holy one" in Hebrew — is even hawking "Texas Roadside Smokehouse BBQ" that's certified kosher.
"The past decade has seen the birth of food porn as social-media expression, with celebrity chefs in the public pantheon alongside pro sports and Hollywood royalty," says chef and owner Ari White. "The kosher consumer has certainly not been left behind." Hakadosh plans to corral more fans with stands at New York City street fairs this spring and summer.
Old-school kosher versions of treif items are upping their game, too. Kosher pizza, long a Saturday night hangout staple for young Orthodox Jews, has typically been soggy and bland. Enter midtown's Pizza da Solo, which offers rarefied kosher pies like the $38 Tartufo, with Perigord truffles, homemade mozzarella, arugula, Parmesan and truffle oil.
And at upscale East Side kosher spot Le Marais, executive chef Mark Hennessey has produced a decadent kosher bacon with intensely brined and smoked veal belly "that's pretty much a ringer for the real thing," according to owner Jose de Meirelles. "So we now wrap medallions in veal bacon, put it on burgers, and crumble it into potatoes.
"Now, if we could develop kosher foie gras," Meirelles adds, "we'd have decadence to really talk about."
Comments
comments