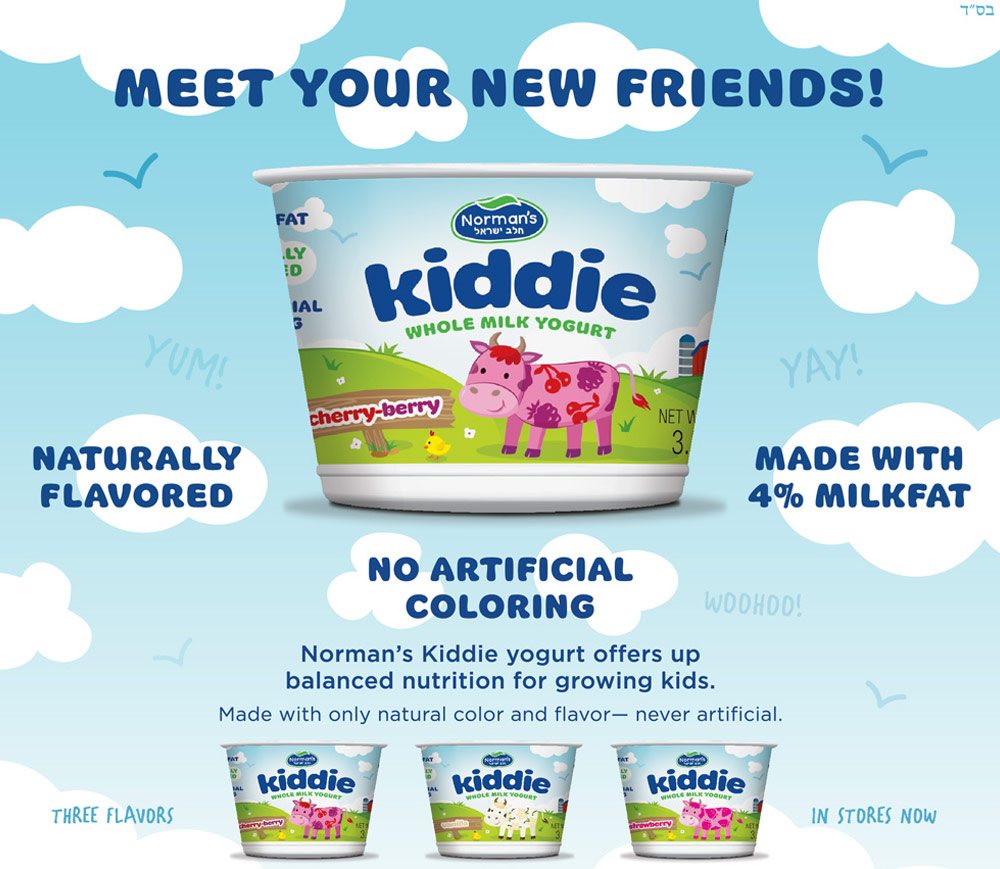 Kiddie, norman's new whole milk yogurt, offers balanced nutrition for kids.
Made with only natural color and flavor – never artificial.
Rutherford, NJ – Imagine a world where you no longer have to force your children to eat healthy and nutritious food. Norman's new whole milk yogurt, Kiddie, will have them begging for it!
Produced in Norman's own state-of-the-art exclusive Cholov Yisrael factory, Kiddie offers a balanced nutritious snack or meal for kids with only natural color and flavor. Developed with kids in mind and crafted from milk that's standardized to 4% milk fat, each cup is packed with all the quality ingredients necessary for a well balanced diet without skimping on the rich, creamy flavor that Norman's is world-renown for. Kids will enjoy the yogurt's rich, velvety taste while keeping energized for whatever adventures the day brings. Kiddie features three mouth-watering flavors including Strawberry, Cherry-Berry, and Vanilla, providing the ultimate yogurt experience to satiate even the fussiest taste buds.
"We are constantly receiving great feedback about our other kids yogurts, so we thought what could be better than creating a delicious yogurt bursting with essential kiddy goodness, pumped with protein, and all the essential healthy ingredients that kids need," said a Norman's spokesman. "What's more, as a pioneer in the Cholov Yisroel industry, we work from our very own yogurt facility which allows us the creativity and capability to provide our customers with the highest quality yogurt, while keeping vigilant quality control and the highest kashrus standards."
Don't miss Norman's other delightful award-winning yogurt lines including Greek Original, Light, Creamy Blends, and Kids, as well as Low-Fat, 80 Lite, and Poppers, lining supermarket shelves across the country in an extensive range of delectable flavors.  Norman's – encouraging healthy eating habits while ensuring absolute yumminess!
Comments
comments