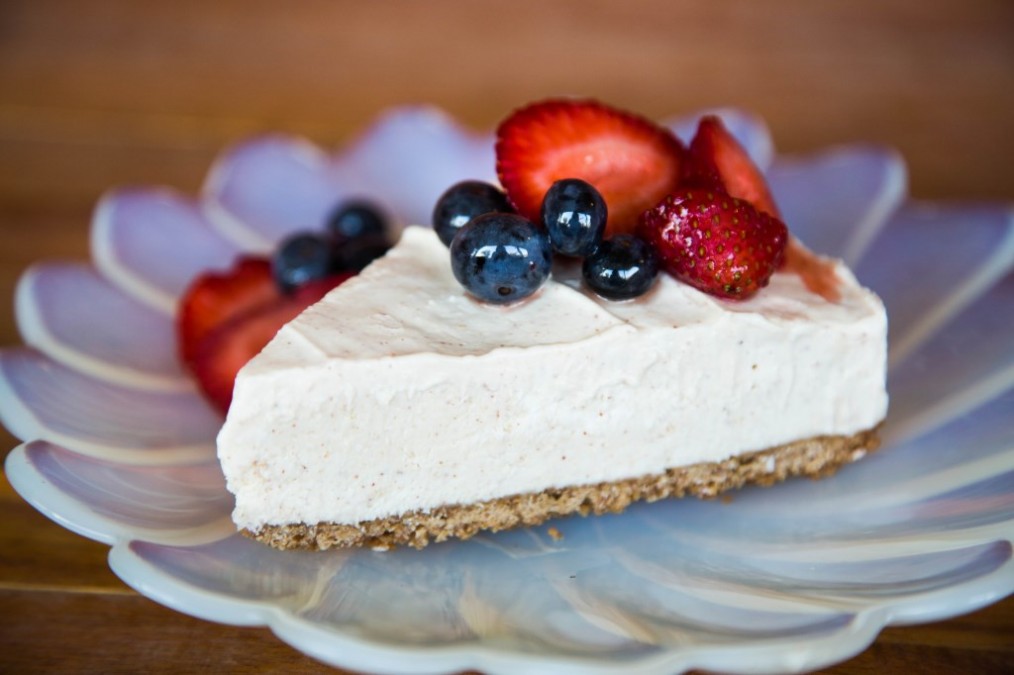 Greek Yogurt Cheesecake
Eating cheesecake, along with all other kinds of milchig pastries, is practically a mitzvah when it comes to Shavuos. But for those watching their calories, Shavuos can seem daunting. Lucky for them, Norman's Greek yogurt isn't just perfect for a healthy snack or quick meal- it's also extremely easy to incorporate into recipes. Many traditional milchig recipes can be made with Norman's Greek yogurt at a fraction of the calories and sugar, but still with the same great taste. Norman's Greek yogurt cheesecake has no cream cheese to be found. Not an ounce. So while a standard slice of cheesecake is loaded with cream cheese, sour cream, whole milk, loads of eggs, and heavy whipping cream, a slice of this dessert is light and tangy, with a subtle sweetness and creamy texture. Besides making delicious baked goods, Norman's Greek yogurt is also the perfect texture for light, healthy desserts, like fruity popsicles. Substituting with Norman's Greek yogurt transforms any high calorie food to a healthy, protein-packed recipe that the whole family will enjoy.
Ingredients
Graham cracker crust
16oz fat free plain Norman's Greek yogurt
1/2 cup sugar
pinch of salt
2 eggs
2 tsp vanilla extract
1 T cornstarch
optional: sliced strawberries for garnish
 Directions
Preheat oven to 350F. In a blender or food processor, combine the eggs, sugar, Norman's Greek yogurt and vanilla. Blend until smooth, then add cornstarch and pinch of salt and blend again. Pour filling into crust in a 10 inch round pan, and bake for 35 minutes.
When the cheesecake is done, it will be soft in the center but have a "done" look to it. The edges of the cake will start to pull away from the sides of the pan. Make sure you don't over bake.
Let cool then chill for 2-3 hours in the fridge.
Arrange strawberries on top of the cooled cheesecake and serve.
Comments
comments